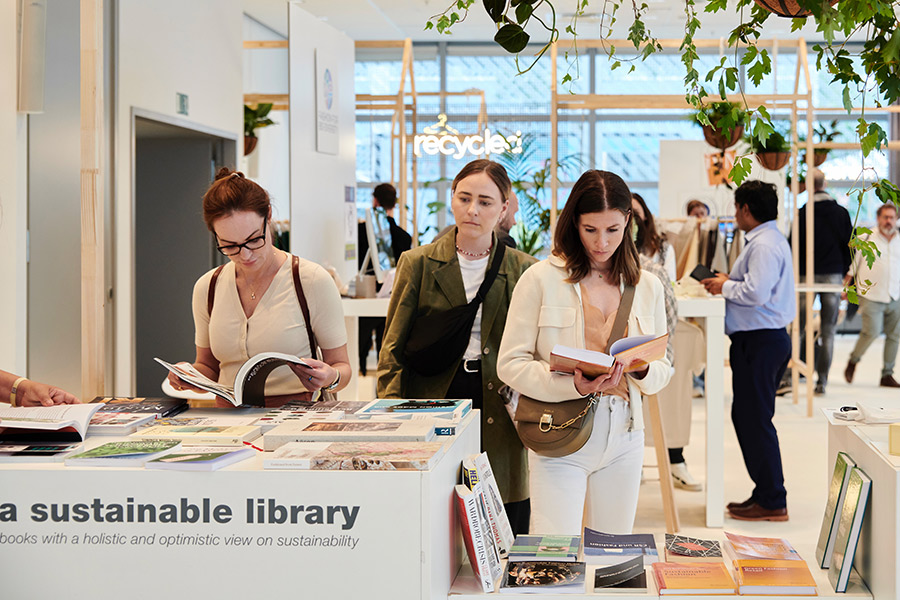 Munich Fabric Start Spring/Summer 2024
December 19, 2022
The fabric trade show MUNICH FABRIC START is establishing itself in Germany as the leading platform for future-relevant textile innovations in the fashion sector. The Munich fabric show manages to strike a balance between euphoria for new things and critical debate. An overview of some of the highlights of the latest show in September and a first preview of the upcoming event.
A new material age has long since begun: The number of new innovations from alternative raw materials that are bio-based, recycled, recyclable or biodegradable is increasing every year. Experimental research is turning into market-relevant, sustainable alternatives that optimally bring both together: the greatest possible positive attention as well as real sustainable progress; a turnaround for the phase-out of fossil raw materials and solutions to the textile waste dilemma. MUNICH FABRIC START is Germany's leading trade show for future-relevant textile innovations for the fashion sector. Whether at the integrated international denim trade show BLUEZONE or in the areas Fabrics and Additionals with new materials for all apparel segments, ReSOURCE and Sustainable Innovations for sustainable approaches, Design Studios with fabric designs and new developments for prints, the innovation hub KEYHOUSE or in the new sourcing area THE SOURCE for international, vertical integration – sustainable developments run through all areas.
Five Sustainable Innovations to watch:
Tea textiles
WASTEA by SCAYS: From shoes, belts and bags to aeroplanes or yachts – a new plant-based leather alternative could be used in all these areas in the future: WASTEA. After introducing apple leather, the Istanbul-based group SCAYS presented its latest development at the last edition of MUNICH FABRIC START: Leather made from tea waste. WASTEA is based on two components – a textile as a base and a coating of the new tea material. For later recycling, the layers could be separated from each other, says SCAYS. The textile becomes textiles again, WASTEA becomes WASMENT – a new kind of cement that the company wants to use to build schools in the near future.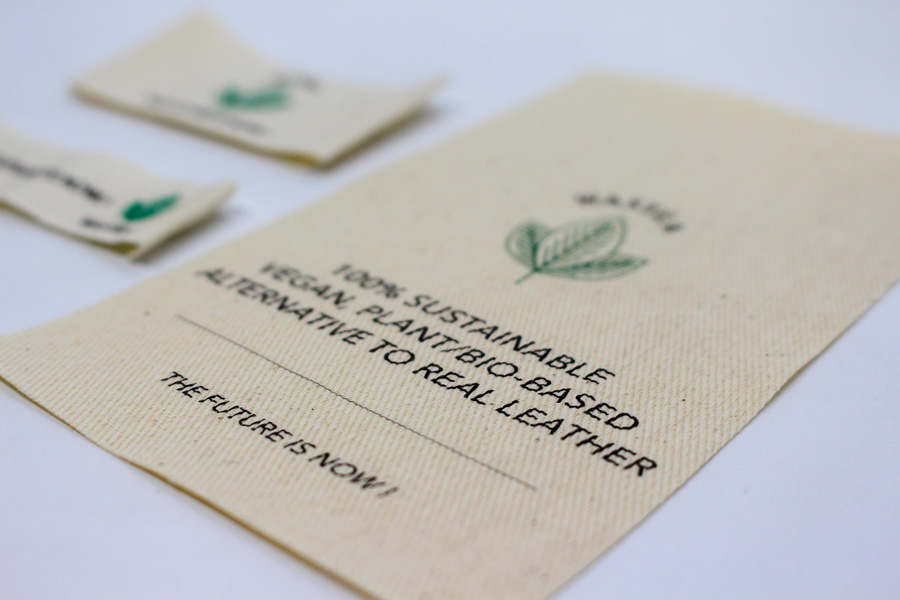 Flower Matter
Flower Matter by Irene Purasachit: Every day, huge amounts of flower waste are produced – designer Irene Purasachit, who lives in Finland, gives them a second life. She recycles flower stems and leaves into fabric and paper – a vegan alternative for making bags, purses or flower paper. Since the so-called "Flaux" material is made of 100 per cent flower scraps, it is completely natural, biodegradable, plastic- and leather-free.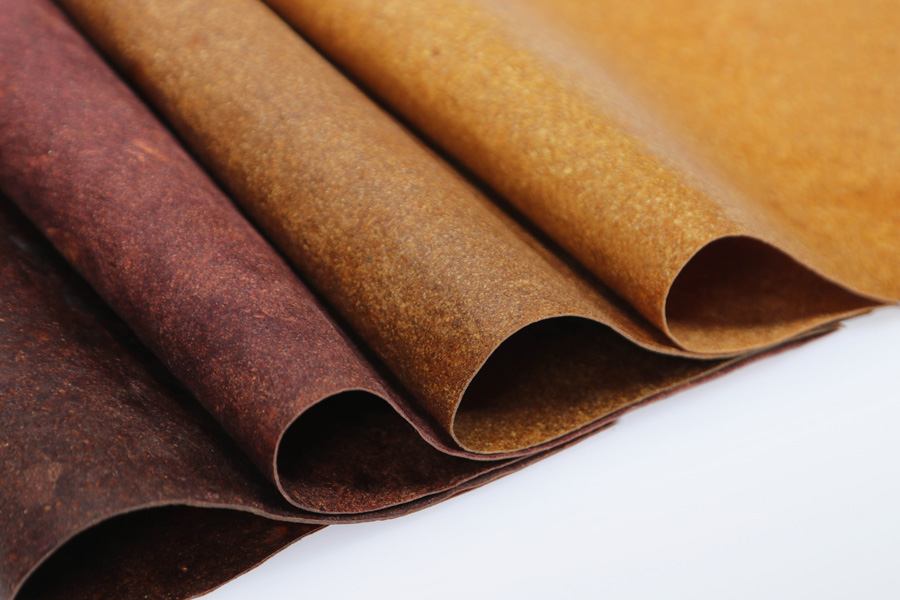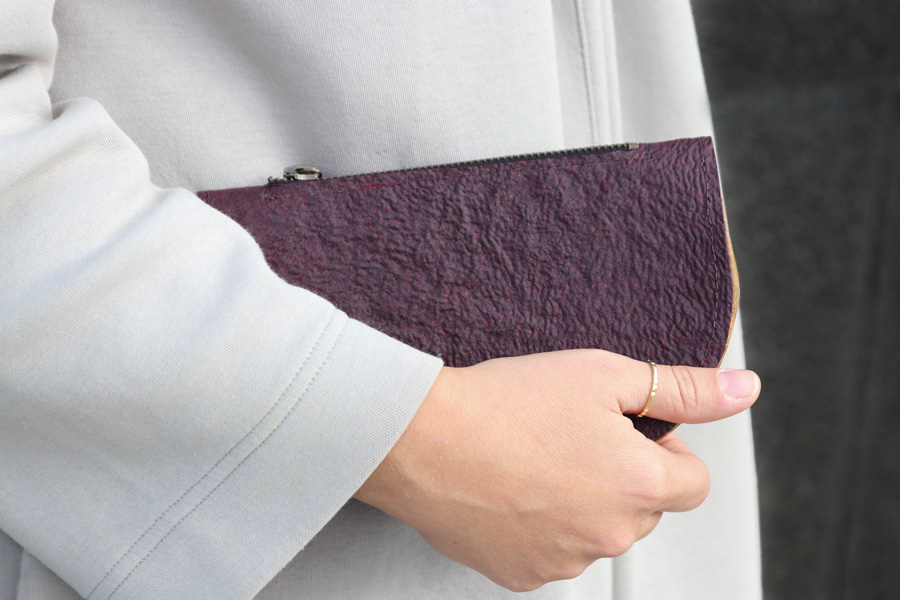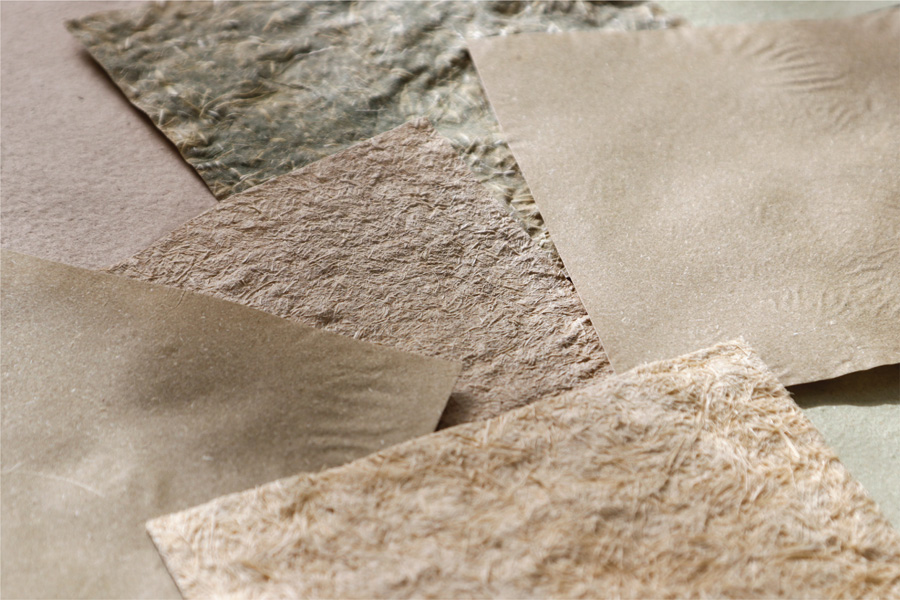 Bacterial cellulose
Biotic by Studio Lionne van Deursen: Take yeast, bacteria and sweetened green tea – after a fermentation process it becomes biodegradable, resistant and highly flexible material. How does it work? Microbes spin nanofibres of bacterial cellulose onto a surface. Once this layer dries, it becomes a solid material with properties very similar to leather. In experiments with plant dyes and dyes from fruit waste, the eponymous designer of the Studio for Material Research and Product Design "Lionne van Deursen" from the Netherlands has developed a fabric collection in bright colours, with different light transmission and varied patterns.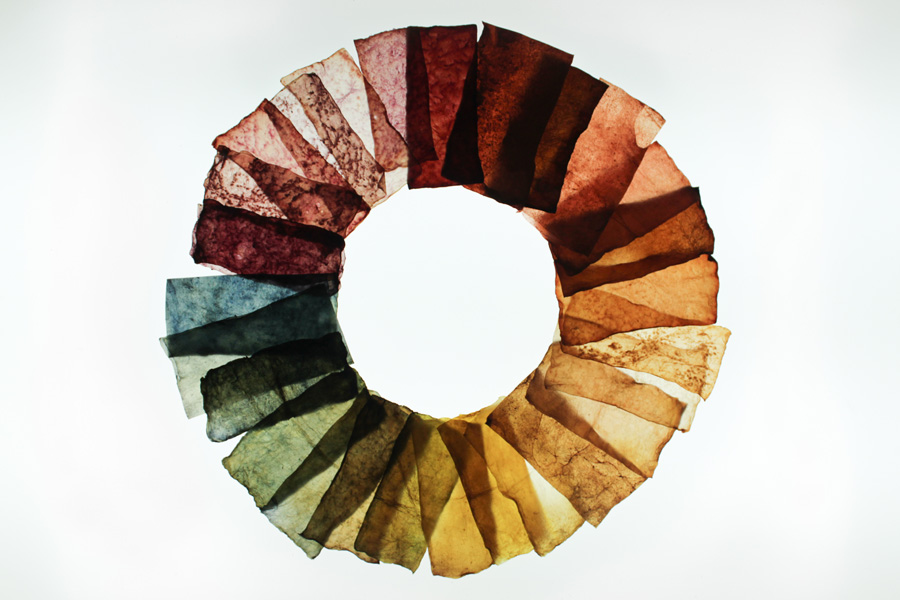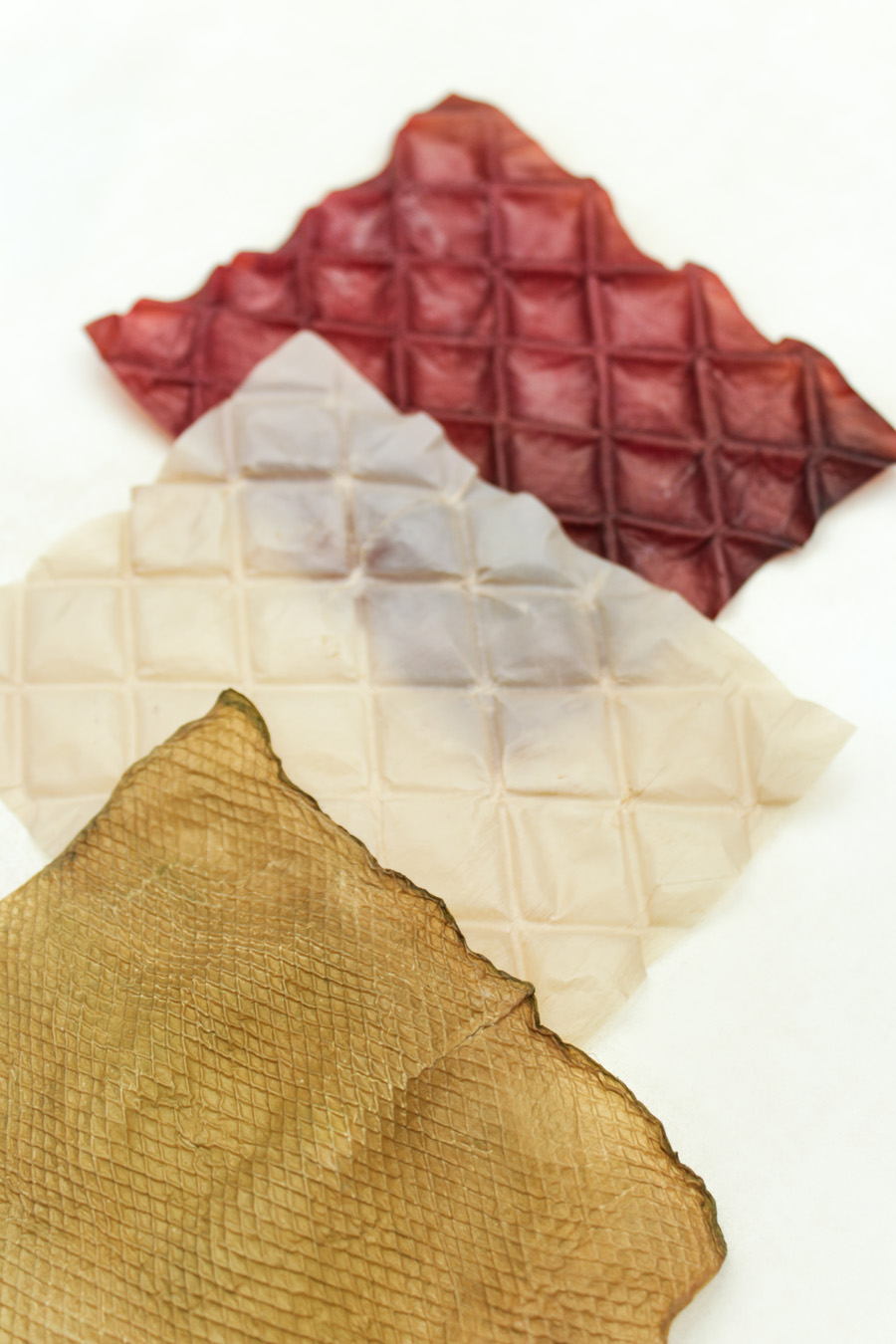 Upcycling with alpaca
Re-Up-Cycle by Incalpaca: Alpaca specialist Incalpaca has developed a highly specialised re- and upcycling process in which textile remnants are turned into new durable high-end fabrics. To do this, Incalpaca buys fabric scraps such as selvages, patterns or yarns from old stock, mixes them with alpaca fibres and produces high-quality re-upcycled yarns from them. Waste from wool and nylon blends as well as recycled nylon can be used, but the process does not work with acrylic and cotton. Extremely short fibres can also be processed. The result: 120,000 kilograms of recycled and upcycled yarn annually – for example for capes, throws and coats.
UV-sensitive yarns
Sunkolor by Panorama Fabrics: as climate change increases, so does the amount of invisible UV rays from the sun. The problem with this is that the respective strength cannot be seen with the naked eye. This is exactly what Sunkolor can do, because the material helps to visually perceive the effect of the sun. The Berlin design studio Panorama Fabrics has developed a technology for yarns that make UV rays visible in textiles.
Exposure to sunlight transforms the colour of the Sunkolor yarns and displays UV index ranges that are dangerous for human skin.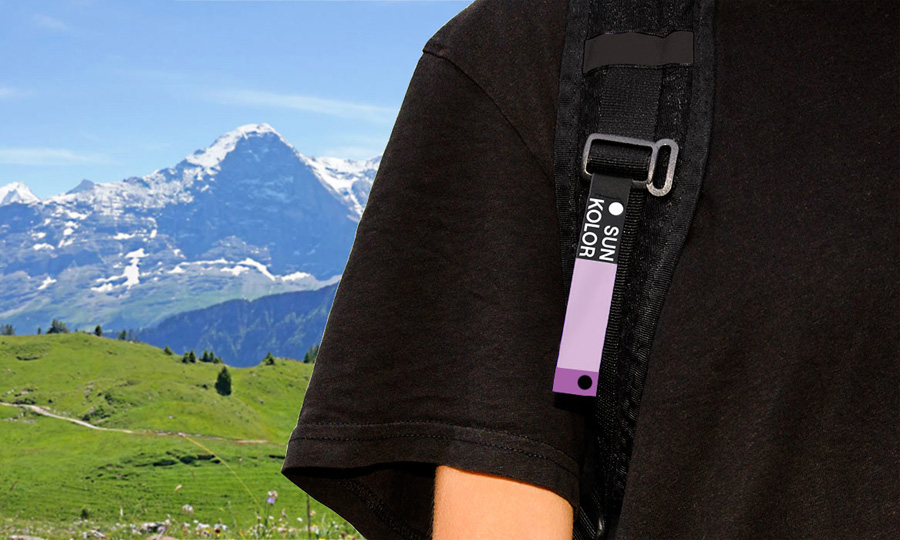 "In the last five years, groundbreaking science has transformed the garment industry with one experiment after another. The demand for new fabrics is high and some of the best candidates are nylons made from castor beans, leather made from mushrooms and synthetic spider silk. The new materials, which aim to correct some of the textile industry's mistakes, have attracted the attention of some of the most prominent players in the fashion industry, and that is an excellent thing," observes Muchaneta Ten Napel, founder and editor-in-chief of Fashnerd.com and Shape Innovate at MUNICH FABRIC START.
During her lecture "Textile Innovations: Fabrics for the Future" however, she also critically discussed the important aspect of greenwashing in this context. With every sustainable textile development, the question arises as to how sustainable it really is. Especially in the area of recyclability, she sees a great need for action.
Visitors will also find sustainable innovations at the upcoming MUNICH FABRIC START Spring.Summer 24 from 24 to 26 January 2023 at MOC Munich and at BLUEZONE and KEYHOUSE from 24 to 25 January 2023 at the Zenith Areal across all steps of the value chain: from numerous future-oriented materials to waterless dyeing and oxygen-based finishing to AI-controlled processes. ReSOURCE, the established sourcing platform for sustainable material developments with bio-certified, biobased, recycled, recyclable or from regenerative sources produced materials and ingredients and is gaining in importance – and for this reason is moving centrally to Hall 2 in January.
For the coming season, around 200 ReSOURCE materials will be presented in the area. On the online platform, around 600 innovative fabrics and additionals from around 90 companies are currently on display. Sustainability, digitalisation, traceability, technology or finishing – in the KEYHOUSE, trend-setting show cases and sustainable innovations will be in the spotlight on more than 1,000 square metres. This is also
where the main lecture forum of MUNICH FABRIC START is located with exclusive keynotes, panel discussions, trend presentations, Q&A sessions and expert talks by international industry insiders. The number of registrations from relevant producers already shows that the events in January are very popular. Munich will thus once again become the global hub for the most important segments of the industry.